Interests and hobbies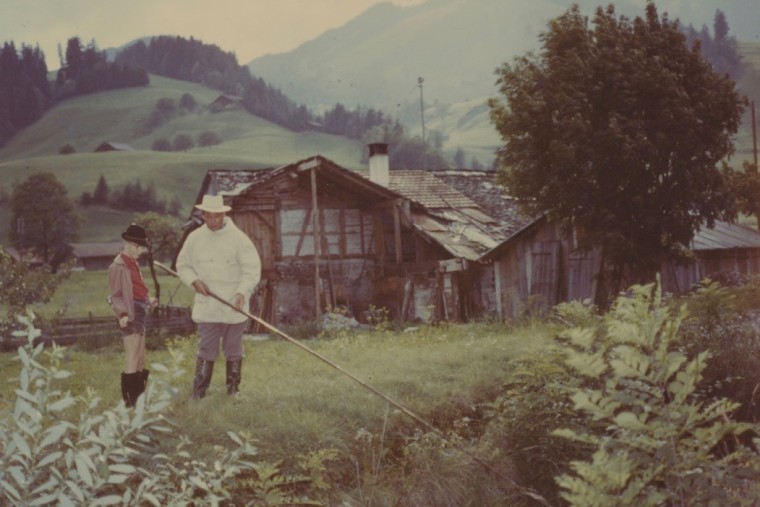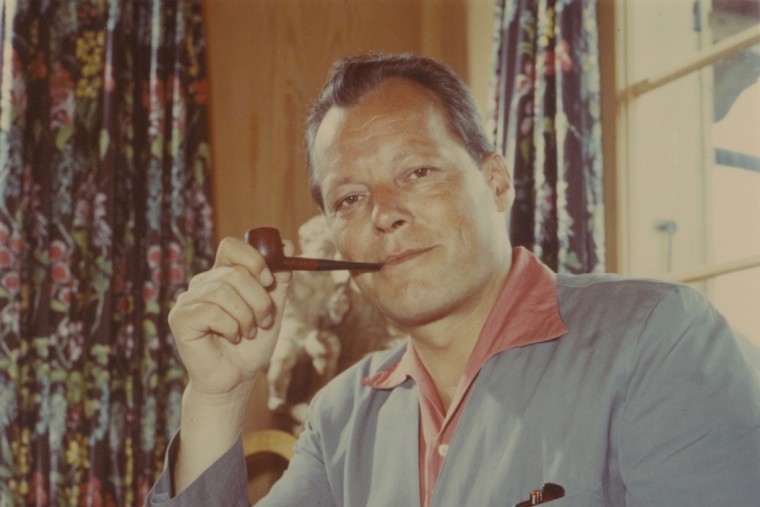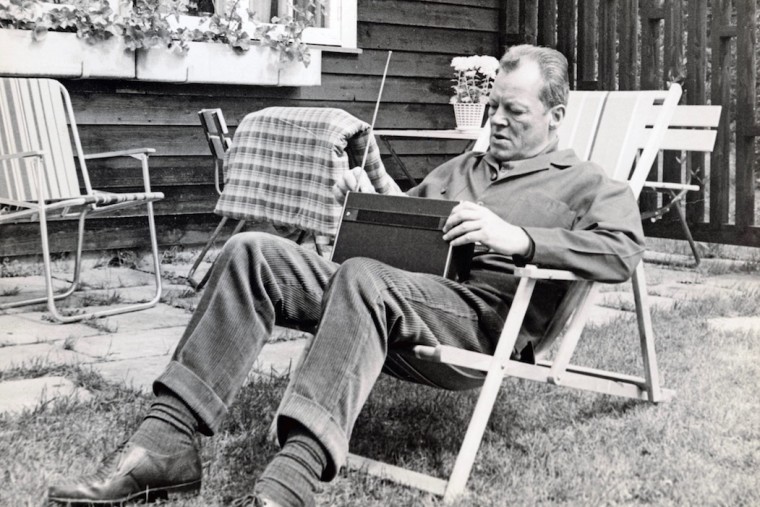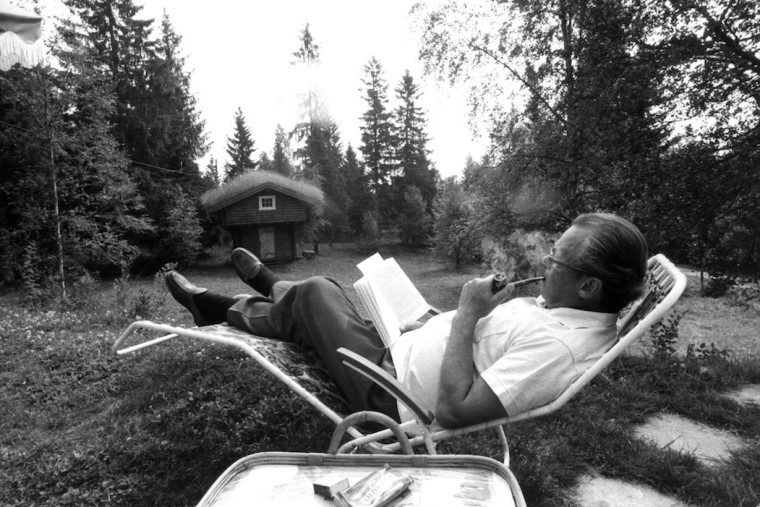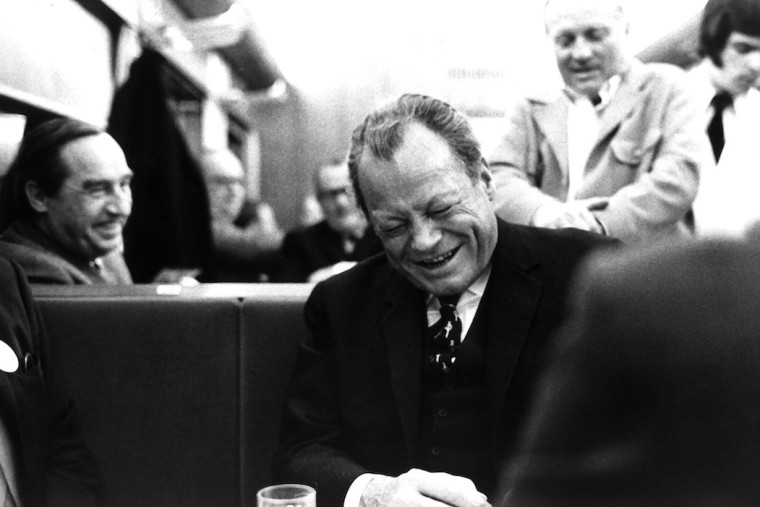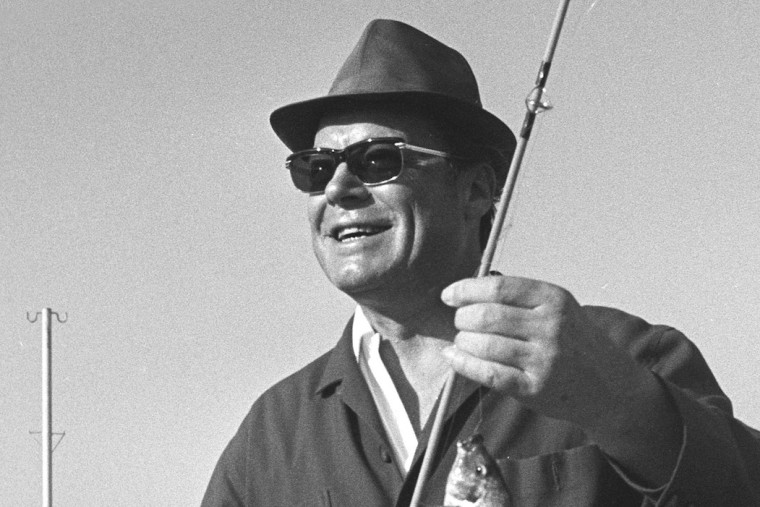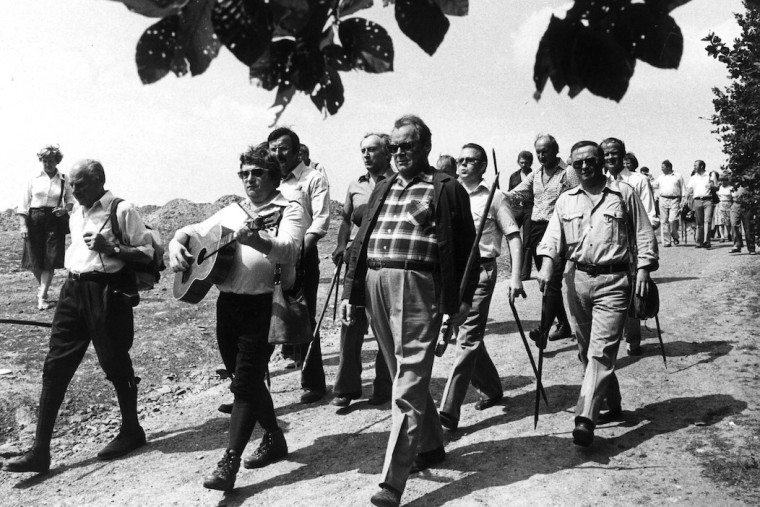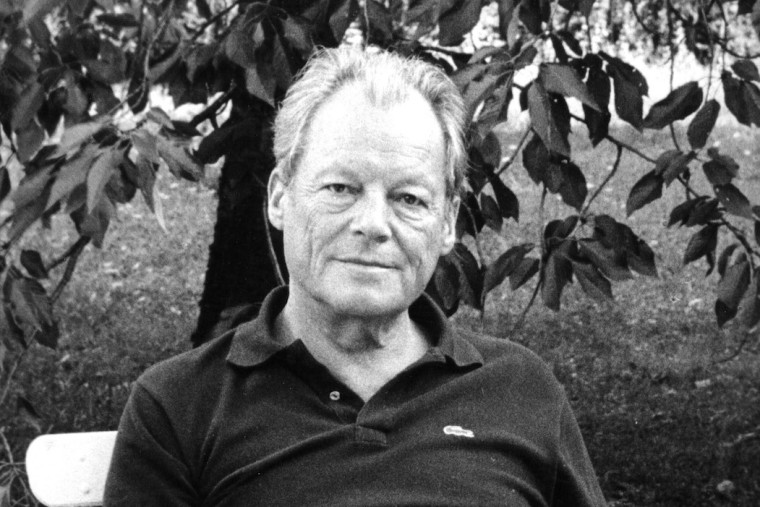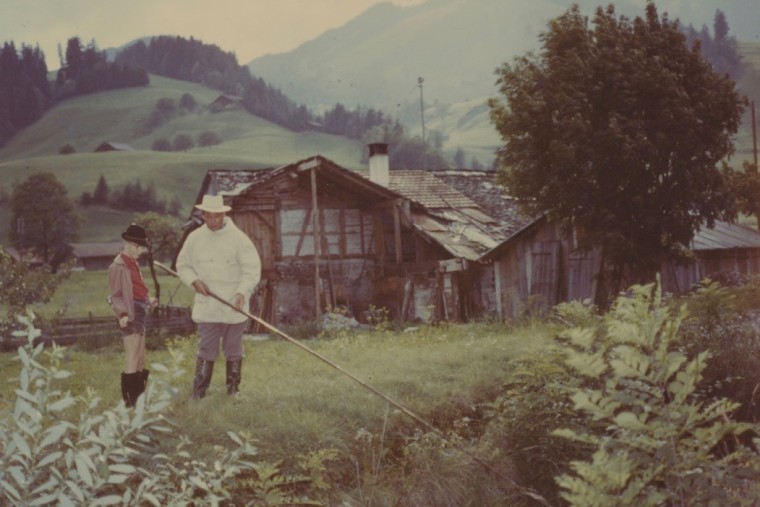 Willy Brandt has been an avid reader since childhood. Books and texts surround him his entire life. The politician and statesman also finds relaxation through fishing. However, Brandt gives up this hobby after his term as Chancellor. Otherwise, his interest in sports and games is rather minimal.
Enthusiasm for books
The Lübeck working-class boy already impresses his teachers with his vast reading. His interests concentrate especially on novels, biographies and reports which shed light on social problems or those dealing with historical events and figures. The pupil's favourite authors are the Danish writer Martin Andersen Nexø as well as the German authors Erich Maria Remarque and Thomas Mann.
The journalist and professional politician Willy Brandt loves to write texts and to edit them. He continues to read a wide variety of works with enjoyment, even in his extremely limited free time. His apartments and especially his study are full of books. His private library consists of reference works, fiction and editions of classics in several languages as well as non-fiction works, brochures and booklets of the most diverse political orientations.
Willy Brandt prefers historical-political volumes, biographies and anecdotal publications. Nevertheless, he is always interested in contemporary literature. In the 1960s and 70s, the social democrat even reaches out to exchange thoughts with prominent German-language writers, i.e. Heinrich Böll, Max Frisch, Günter Grass, Siegfried Lenz and Martin Walser. In the final years of his life, Brandt develops a liking for the Columbian author, Gabriel García Márquez, whose novels are all known to him.
Openness for art
Owing to his political offices and his cosmopolitanism, over the decades Willy Brandt meets personally with many renowned artists. He usually encounters them and their art with considerable openness. Requests by painters, sculptors, graphic artists, photographers and film-makers to portray him are almost always fulfilled.
Thus Willy Brandt sits as a model for such artists as Georg Meistermann and Andy Warhol. Besides, he often allows himself to be captured close up by such famous photographers as Jupp Darchinger, Barbara Klemm, Robert Lebeck, Stefan Moses and Konrad R. Müller. He also has a sense for unconventional art. After a meeting with Christo and Jeanne-Claude in the year 1977, Brandt is among the first supporters of the artist couple's plan to cover the Berlin Reichstag Building in fabric.
Enjoyment of singing and sense of humour
The highly busy politician and statesman is rarely seen in theatre, cinema or concert halls. On free evenings at home he likes to watch television. Willy Brandt is neither an aficionado nor expert of sophisticated music. Most of all he enjoys listening to marches and to German hit songs. Without being especially gifted, during his childhood he learned to play the mandolin. Besides that, Brandt enjoys singing fervently. Well into old age he joins in, without having forgotten the lyrics, whenever old workers' tunes and folk songs are intoned at festivals or party conventions.
Willy Brandt also has quite a sense of humour and laughs frequently. He derives great enjoyment in particular from telling jokes, with which he entertains both small and larger circles of friends. Brandt has a passion for and collects political jokes. His plan to publish this collection is realised after his death by Brigitte Seebacher with the book "Lachen hilft" ("Laughter helps").
Fishing as a hobby
Next to his enthusiasm for politics, history, literature and jokes, Willy Brandt pursued only one other hobby: Fishing. He often went fishing as a boy, then became proficient at this hobby in Norway. Various photographs of family vacations in the 1950s and 60s and the confirming reports of his older sons prove that Brandt was a serious and knowledgeable angler. As Lars writes, his father can spend hours together with him in a boat on a lake and quietly wait for a catch.
Meanwhile, the hobby which the whole world soon knows about has a bizarre twist: Over the course of the years, Willy Brandt is sent a tremendous number of fishing rods as gifts, almost all of which he never uses. His youngest son, Matthias, even asserts that his father appeared as a fisherman for purely image-based reasons. As Federal Chancellor, he tossed out the bait only when a camera was in the vicinity. Be that as it may: With Brandt's resignation in 1974 at the latest, his one-time passion for fishing is irrevocably extinguished.
Little interest in sports
In general, athletic activities are not counted among Willy Brandt's favourite pastimes. In his 1932 prep school leaving certificate, the entry for the area of physical education shows the grade of "insufficient." As a pupil he wins a 5,000 metre race one time – but only because he is the only participant in his age group.
During his Scandinavian exile, Brandt does engage in a few winter sports and occasionally plays some football. Later he participates in almost no physical activity at all. However: As Foreign Minister and as Federal Chancellor in Bonn, Brandt swims nearly every morning in the summer outside in the pool of his official residence. Other than this he usually undertakes strolls and hikes on Sundays and on holidays. The stamina which the chain smoker of many years still manifests well beyond the age of 60 is remarkable.
Since he has been standing at the forefront of German politics from his time as Governing Mayor of Berlin and later, Willy Brandt is also seen as a spectator at various major sporting events. But he finds it difficult to get through these events or to show enthusiasm for the sport, since attendance is actually part of the obligations of his office. In the 1980s he and his wife Brigitte, who is a fan of SV Werder Bremen, attend this team's games at the stadium. However, Brandt never becomes a genuine football fan.
---
References to literature:
Peter Brandt: Mit anderen Augen. Versuch über den Politiker und Privatmann Willy Brandt, Bonn 2013.
Torsten Körner: Die Familie Willy Brandt, Frankfurt a. M. 2013.
Brigitte Seebacher: Willy Brandt, München 2013.