The Children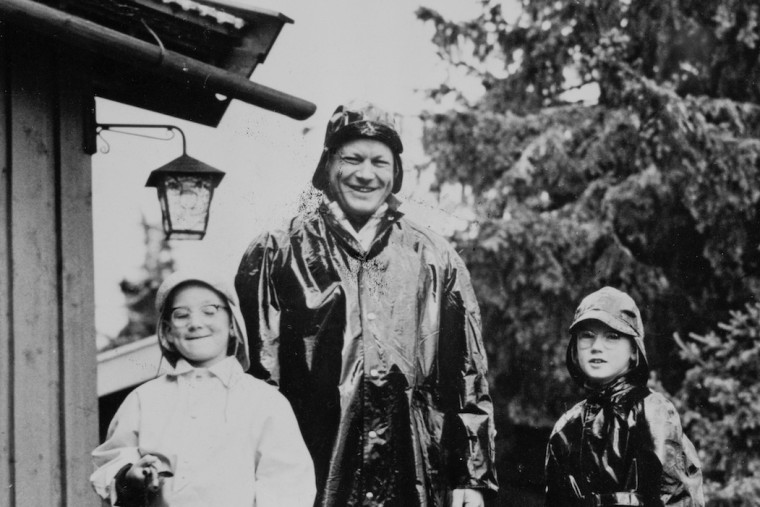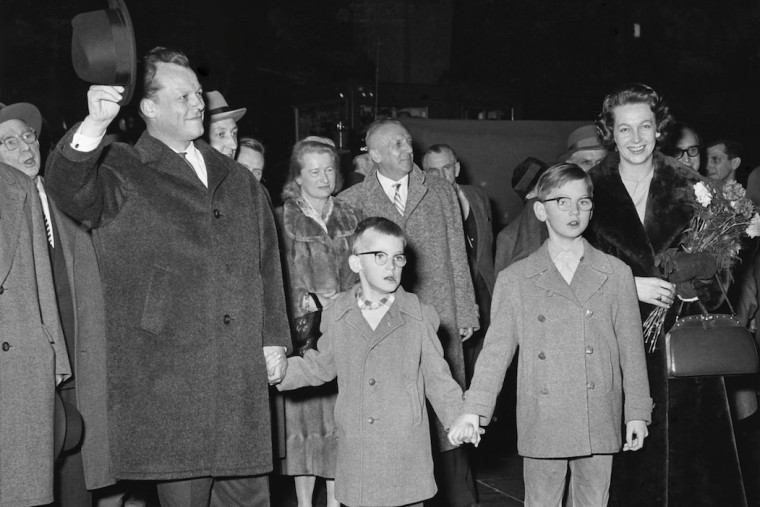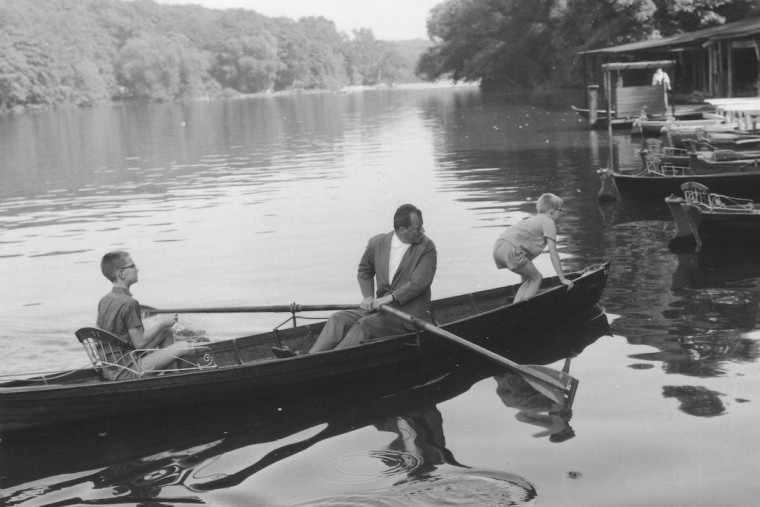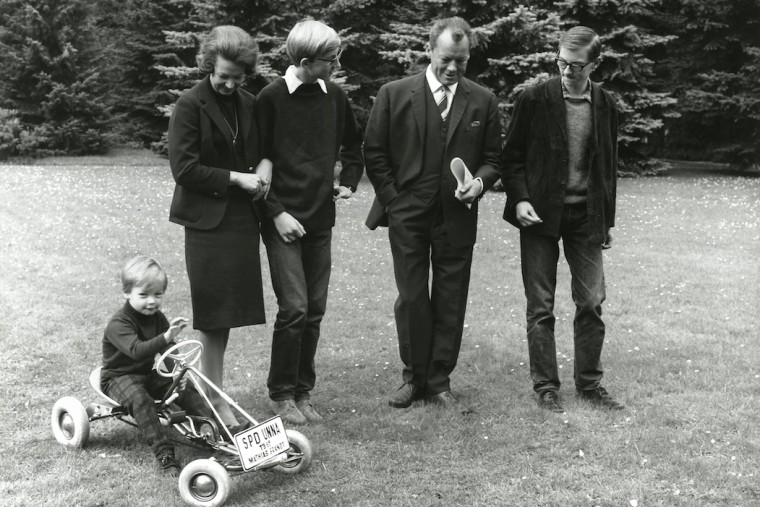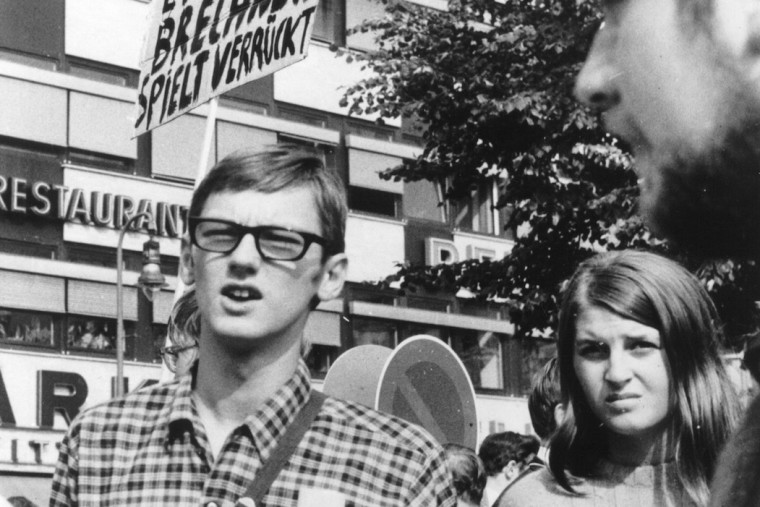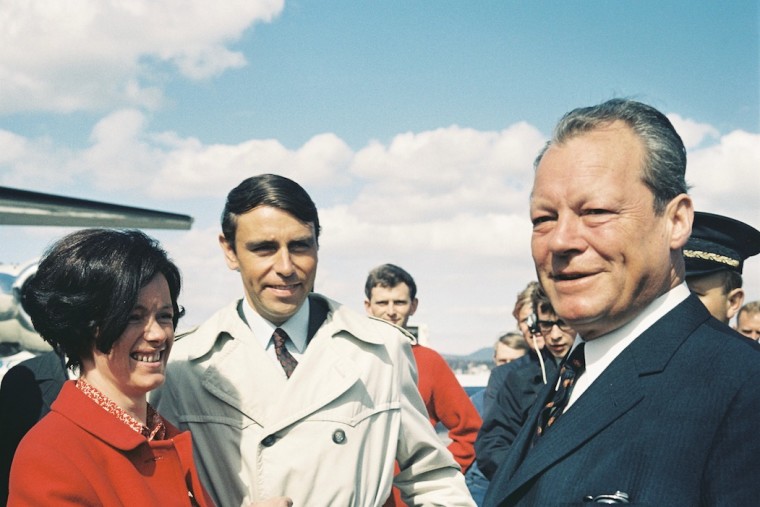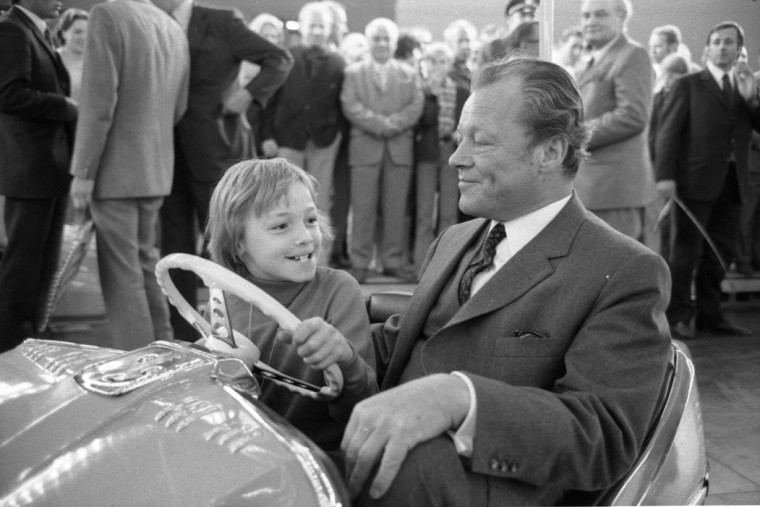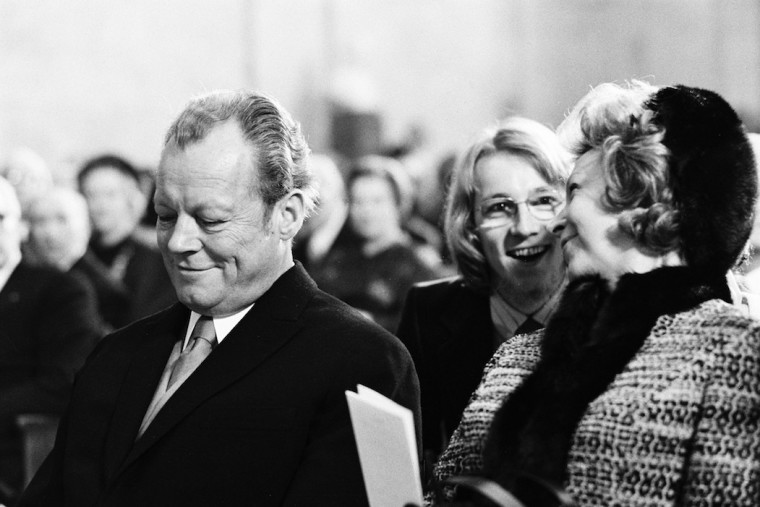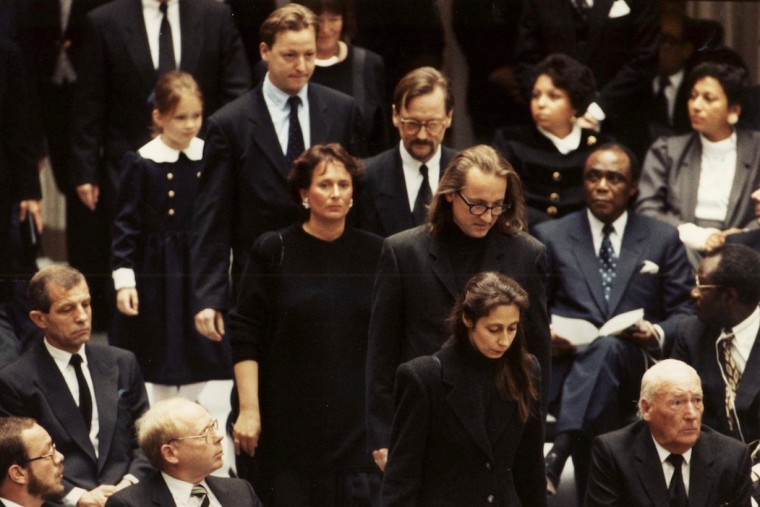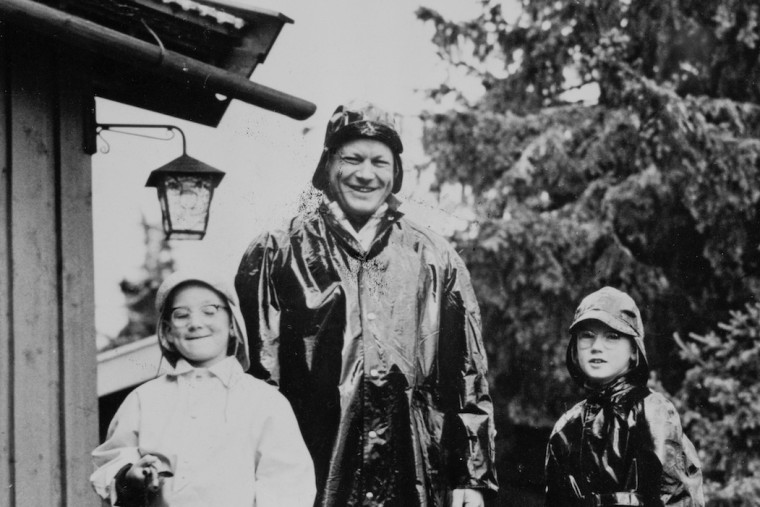 During his life, Willy Brandt becomes a father four times. From early on his children must come to terms with the fact that as a top-ranking politician, he is frequently away from home and can spend only limited time with them. Their familial relationships are characterised by alternating phases of nearness and distance.
His daughter and his three sons each deal in different ways with the stresses arising from this and from Brandt being a once-in-a-lifetime political figure. All four value being able to stand on their own two feet and to be independent of their prominent father. Despite some conflicts, they sustain a sense of mutual closeness and admiration in the family.
Ninja Frahm
Willy Brandt's first child is the Norwegian, Ninja Frahm. When her mother, Carlota Thorkildsen, brings her into the world on 30 October 1940, her father has already been living a few months in Sweden. Brandt has fled there after the German occupation of Norway.
Mother and daughter come to Stockholm in the spring of 1941. Shortly afterwards, the parents marry. The officially recorded name of the young family is Frahm, the surname Willy Brandt grew up with in Lübeck and under which his 1940 Norwegian passport was issued. Even later, Ninja retains this surname.
After his separation and divorce from Carlota Thorkildsen, Willy Brandt makes concerted efforts to remain in close contact with his daughter. He regularly writes affectionate letters to the young girl who has been living in Norway again with her mother since 1945. During her childhood and youth, Ninja repeatedly spends summer holidays in Berlin with Papa and his second wife, Rut. She has a strong relationship with her step-mother and her half-brothers and is accepted unquestioningly as a member of the family. Later they meet repeatedly in Norway where the Brandts spend almost every holiday well into the 1970s.
Ninja passes her leaving exams in 1959, then becomes a teacher and later directs a Montessori school. She marries structural engineer Knut Kringstad and has two daughters in 1983 and 1984. Most of all, Grandfather Willy develops a heartfelt relationship with his youngest grandchild, Janina. Today, Ninja Frahm lives in Oslo.
Peter Brandt
Willy and Rut Brandt's oldest son is born on 4 October 1948 during the Berlin Blockade and grows up in West Berlin. Peter enjoys a relatively liberal up-bringing, as do his younger brothers later. Their parents allow the children freedom for personal development but also provide them with guidance.
Despite the Governing Mayor's frequent absences from home, according to his own claims, Peter does not have the feeling during his childhood of having missed out on anything. Whenever Willy Brandt has time for him and his younger brother, Lars, they play parlour games, go rowing on Lake Schlachten, take excursions within Berlin and the surrounding countryside or visit a museum. On occasion, they even travel to East Berlin.
As his Papa did in the past, Peter already becomes politically involved in his young years. In 1963 he joins the "Falcons," the SPD's youth organisation. However, the young man soon disdains the policies of the social democrats which he criticises from a far-left perspective. In 1968, he leaves the Falcons and founds his own Trotskyite organisation with the name "Spartacus." A result of this is fierce conflicts with his father, Willy, who sees his own policies called into question by his son. His mother, Rut, often has to mediate between the two and also reminds her husband of his own leftist-socialist youth.
In late 1966, when Willy Brandt becomes Foreign Minister in the Grand Coalition and the family moves shortly thereafter to Bonn, Peter remains in Berlin. There he completes his university preparation diploma in 1968. His participation in protests by the Extra-Parliamentarian Opposition (APO) causes considerable stir since they are mainly directed against the USA's Vietnam War, the State of Emergency Laws of the Grand Coalition and the Springer Publishing Company. Although he always demonstrates peacefully and decisively rejects the use of violent means, Peter Brandt is arrested in West Berlin in 1968 and charged with participating in an illegal demonstration. The District Court of Tiergarten sentences the 19-year-old to two weeks of incarceration which is commuted on appeal to a monetary fine.
Segments of the media, the public and even individual members of the party accuse the SPD chairman of not having raised his oldest son properly. Despite the serious political differences in his family, it never occurs to the father to reprimand or to punish his son.
Peter Brandt leaves his Trotskyite phase behind him in the course of the 1970s. From 1980 until 1985, he is a member of the Alternative List, as the Greens are called in West Berlin. In the 1990s, he becomes a member of the SPD. After his study of history and political science at the Free University of Berlin and his graduation in 1973, he works as an assistant lecturer at the Technical University of Berlin. The historian is promoted to professor in 1988 and from 1990 until 2014 is a professor for German and European history at the Open University of Hagen. Among the concentrations of his research work and his publications are, as expected, the history of the workers' movement and the "German Issue."
Peter Brandt is especially motivated by the relationship of the Left to the nation and to the re-unification of Germany for which he already takes a stand in the 1980s. Many a conversation with his father, with whom he never severs contacts, often revolves around this subject. That also becomes clear in the book, "Mit anderen Augen" ("With Different Eyes") published in 2013, in which he looks at the politician and private man Willy Brandt from the perspective of a historian as well as from that of a son.
Peter Brandt belongs to numerous associations, among them the Historical Commission of the SPD executive committee, the Board of Trustees of the Friedrich Ebert Foundation, the Board of Governors of the Federal Chancellor Willy Brandt Foundation as well as the executive committee of the Reich's President Friedrich Ebert Memorial in Heidelberg. From his first marriage with Gabriele Brandt, he has a daughter, Karoline, born in 1983, and from his second marriage a son, Anton, born in 1986.
Lars Brandt
The Brandt's second son is born on 3 June 1951. Like his brother Peter, Lars grows up as a dyed-in-the-wool Berliner. Only with reluctance does he make the move with the family to Bonn in 1967.
In West Berlin, the eldest sons of the Governing Mayor enter early into the media spotlight. In 1966/67, the brothers make nationwide headlines for the first time because they play the main role together in the filming of Günter Grass' novella, "Cat and Mouse." Anger and protests are especially sparked by a scene in which Lars Brandt dances around half-naked with a Knight's Cross of the Wehrmacht. Conservatives and right-wing radicals see this as besmirching the honour of German soldiers. Once again Willy Brandt is the target of sharp criticism for having allowed his sons to work in the movie filmed in Poland.
Although a certain degree of talent is attributed to him, Lars decides against a career as an actor. He completes his university prep diploma and subsequently studies politics, sociology and philosophy. Starting in the mid-1970s, he becomes a freelance artist and works as a painter, filmmaker and book author. Today he lives with his wife, Renate, in Bonn.
For a long time, the middle son is the closest of the children to his father. With rough drafts, Lars works on important speeches and books by Willy Brandt, mostly on his father's auto-biographies, "Begegnungen und Einsichten" ("Encounters and Insights") (1976) as well as "Links und frei" ("Left and free") (1982). He also accompanies the Federal Chancellor and SPD chairman on some trips. However, in the 1980s they have a falling out. The rift between them is not overcome until shortly before Willy Brandt's death.
In 2006, Lars Brandt publishes his book "Remembrance," which is highly praised by literary critics. It is a sensitive portrait of his father, which offers unaccustomed private insights into his family life. Quite far from coming to terms with their relationship, Lars describes Willy Brandt's complicated personality with all its idiosyncrasies and contradictions.
Matthias Brandt
Eight weeks after construction of the Berlin Wall begins, the youngest Brandt son first sees the light of day on 7 October 1961 in West Berlin. Mother and child just barely survive an extremely difficult birth. Father Willy is not informed of this at first. Against Rut Brandt's expressed wish, the Governing Mayor flew to the USA a few days before.
In 1967, Matthias moves to Bonn with his parents. When Willy Brandt becomes Federal Chancellor in 1969, press and public also become quite interested in his youngest offspring because for the first time an underage child is living in the family of a Chancellor in office. This constantly supplies the media with attractive pictures at official photographic appointments and on the Brandt's holiday trips.
But such moments are rare when father and son actually do something together. As a result, his relationship with his mother is much closer. Rut Brandt takes care to see that Matthias grows up as normally as possible. He has friends in the neighbourhood and in his football club. The zealous fan plays for several years on a youth team.
After earning his diploma in Bonn, Matthias Brandt studies acting at the University for Music and Theatre in Hannover. From 1985 on he is active on numerous German-language stages. Besides that he takes small roles in cinema and television films. He achieves a breakthrough in 2003 with the TV production, "Im Schatten der Macht" ("In the Shadow of Power"), which makes him known to a wide audience. In this film, he plays the GDR spy, Günter Guillaume, whose unmasking caused Federal Chancellor Willy Brandt to resign his office.
In the documentary film, "Schattenväter" ("Shadow Fathers"), in which Guillaume's son Pierre Boom also is taking part, for the first time Matthias Brandt tells about his experiences and impressions as the son of a Chancellor and of the difficult relationship with his father. In 2016, his well-regarded book, "Raumpatrouille" ("Space Patrol"), appears. In it the 55-year-old tells in fourteen short stories how he perceived those years as a child in Bonn.
On several occasions, Matthias Brandt has been recognised for his exceptional achievements as an actor, i.e. in 2006 and 2013 with the Bavarian Film Prize, in 2007 with the Adolf Grimme Prize and in 2011 with the Bambi. Today, he lives in Berlin with his wife Sofia and their daughter Naima who was born in 1999.
---
References to literature:
Lars Brandt, Andenken, München/Wien 2006.
Matthias Brandt, Raumpatrouille. Geschichten, Köln 2016.
Peter Brandt, Mit anderen Augen. Versuch über den Politiker und Privatmann Willy Brandt, Bonn 2013.
Torsten Körner, Die Familie Willy Brandt, Frankfurt a. M. 2013.