Family in Lübeck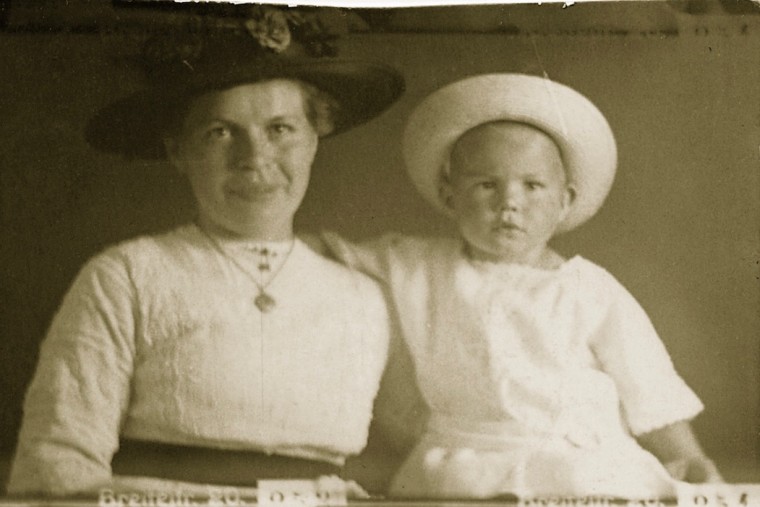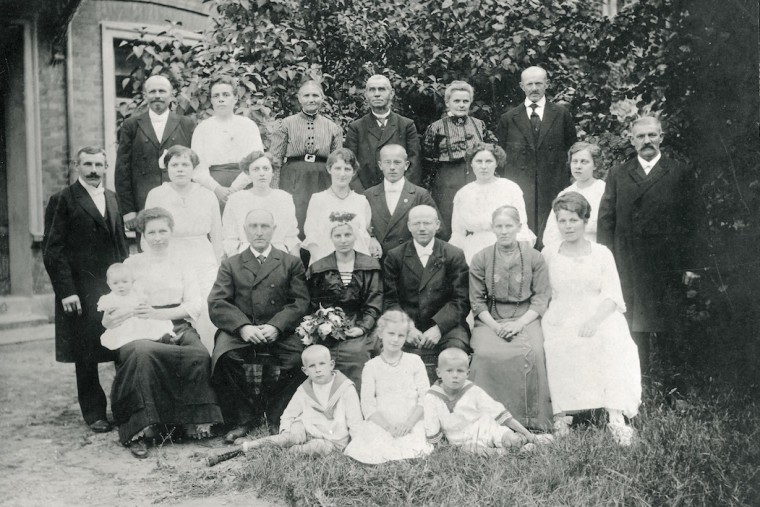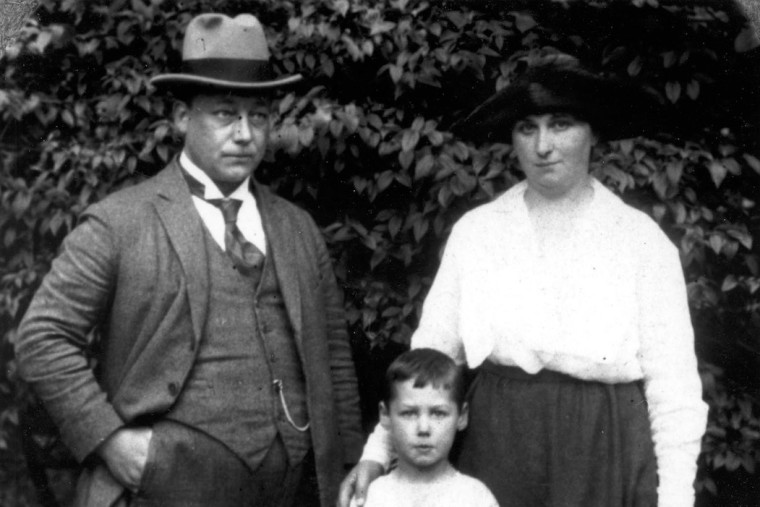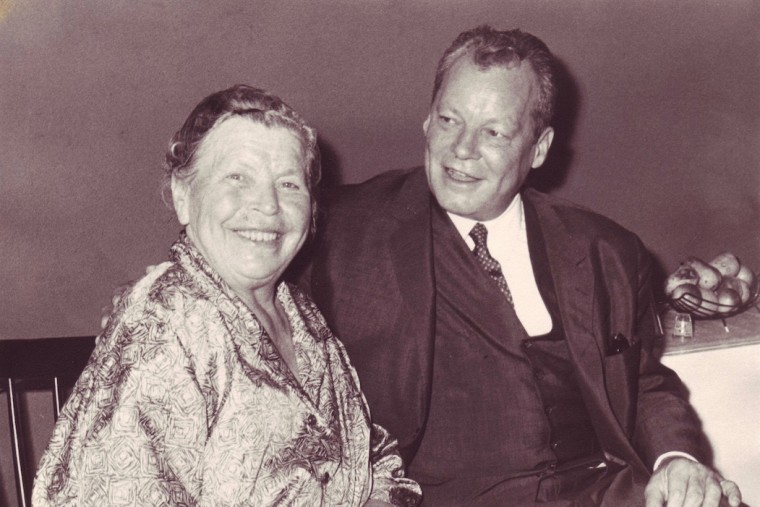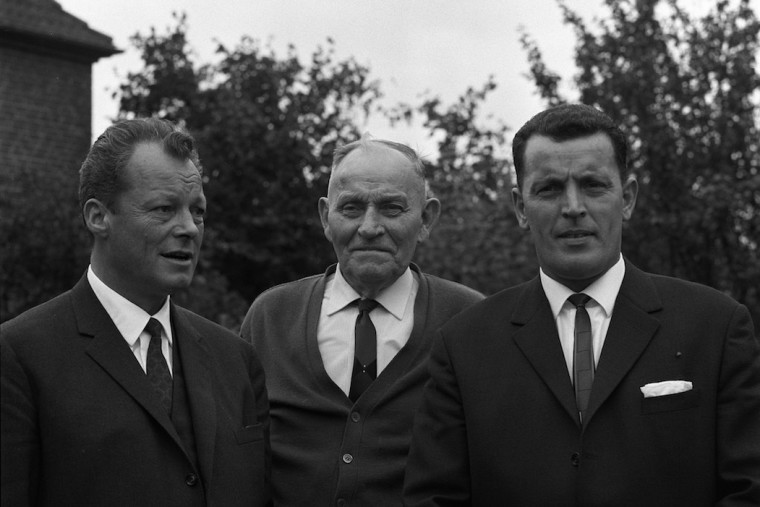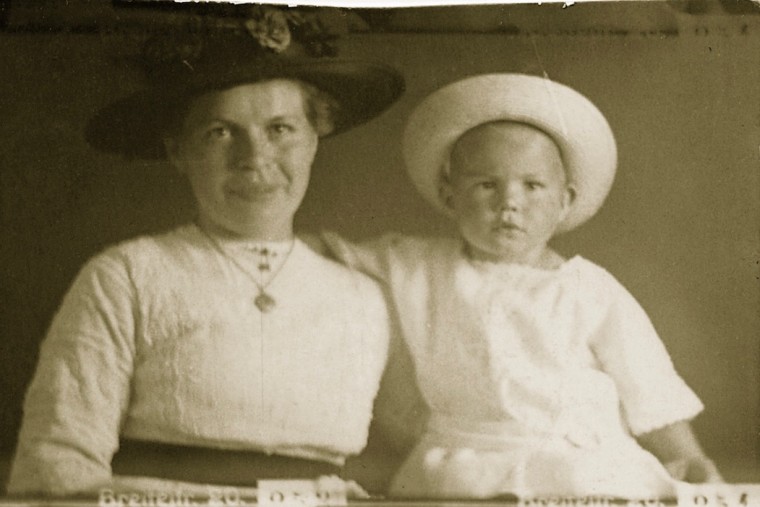 Willy Brandt grows up in Lübeck with the name Herbert Ernst Karl Frahm in a complicated familial situation.
His mother
When Willy Brandt comes into the world in 1913, his mother, Martha Frahm (1894-1969), is not married. The sales girl in a social democratic co-operative store also has no steady partner at this time. Brandt's birth out of wedlock is considered a blemish then and also decades later.
Since Martha Frahm must pursue her career, a neighbour takes care of the young boy on workdays. Mother and child typically only spend Sundays and holidays together. In what little free time she has, the young woman is active in the SPD's workers' associations. She frequently takes her son along to events of the "Lübecker Naturfreunde" ("Lübeck Friends of Nature"). Martha enjoys hiking, often attends the theatre and participates in a chanting choir. In 1927 she marries the bricklayer foreman, Emil Kuhlmann (1880-1969). A year later, their son Günter is born. In addition, a foster child grows up in the family.
His father
For many years, the identity of Willy Brandt's biological father remains taboo. He does not reveal the name publicly until 1989 in his book "Erinnerungen" ("Memoirs"), although he knows it since 1947 by a letter from his mother. John Möller (1887-1958) has moved from Lübeck only two weeks after the birth of his son and returned to his hometown of Hamburg. There he marries in 1919 and has another son who is later killed in World War II. Because of his association with the SPD, in 1933 the secondary school teacher is dismissed by the Nazis from his teaching job. After this, Möller ekes out a living as a bookkeeper. During his lifetime, he manifests no interest whatsoever in his non-marital child for whom he occasionally pays child support money. By the same token, Willy Brandt never tries to contact him.
His grandfather
During Brandt's childhood and youth, his grandfather, Ludwig Frahm (1875-1935) assumes the role of father. The one-time tenant farmer from Mecklenburg has moved to Lübeck in 1907 with his wife Wilhelmine and their children Martha and Ernst and found work at the Dräger Factory. An SPD member, Frahm returns wounded from the First World War in which he had to serve as a soldier. In 1919 – six years after the death of his first wife – the truck driver marries again. His five-year-old grandson Herbert also comes to live in the couple's apartment. Even when his mother, Martha, weds and founds a family of her own, Herbert continues to live with his grandfather. Unfortunately, the youngster cannot stand his grandfather's second wife and for that reason calls her "Aunt."
Ludwig Frahm sees to it that his grandson has a good education. He also tells the boy many facts about the history of the SPD. The democratic and social accomplishments of the Weimar Republic mean a great deal to this social democrat. The establishment of the Nazi dictatorship beginning in 1933 shakes him to the core and drives him to despair. Due to grief over this and marital problems, he takes his own life in 1935 at the age of 59. For Willy Brandt, the news of his death, which he learns of while exiled in Scandinavia, is a heavy blow. Only a year earlier was it revealed to him that Ludwig Frahm is not his biological grandfather.
Hardly any contact during the period of exile
Moreover, since he fled Germany in 1933, his contact with his family in Lübeck is severely limited. Until the outbreak of war in 1939, Willy Brandt and his mother write each other occasional letters which are exchanged by way of undercover addresses. There is only one personal meeting between them, in Copenhagen in 1935. Furthermore, Emil Kuhlmann takes advantage of a trip to Norway in 1938 to pay a brief visit to his stepson in Oslo.
As adherents to social democracy, Martha and her husband are repeatedly subject to harassment in the "Third Reich." In 1934, Emil is incarcerated for several weeks. The family is forced to move out of their apartment. In 1942, the Kuhlmanns are both arrested after an anonymous accusation. They are said to have flashed light signals to English bombers which is punishable by death. Because the accusation is untenable, the two are set free again.
Family visits in the post-war period
A reunion with his family in Lübeck is possible in November 1945 when Willy Brandt can travel to the Hanseatic city for the first time after the war. In the post-war period, he maintains not only contact with his mother through letters, but also sends packages to his relatives who have to get by with very little.
In the 1950s and 60s, Willy, his wife Rut as well as their sons Peter and Lars regularly visit the Kuhlmanns for family celebrations. The children frequently spend a portion of their holidays with Oma and Opa who continue to live in modest circumstances. Their small one-family house in the South of Lübeck has a kitchen and three rooms. But there is no bath and the toilet is located in a stall. The family is able to grow vegetables in their spacious yard.
The Kuhlmanns do not live long enough to experience the election of Willy Brandt as Federal Chancellor. His mother Martha dies on 3 August 1969 in Lübeck, only three months after her husband. Her son, Günter Kuhlmann, Brandt's half-brother, who initially worked in a retail co-operative, is active for many years as an official in the penal system. He dies in the year 2010.
---
References to literature:
Peter Merseburger: Willy Brandt 1913–1992. Visionär und Realist, München 2013.
Martin Wein: Willy Brandt. Das Werden eines Staatsmannes, Berlin 2003.